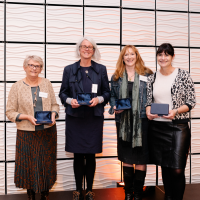 The annual University of Auckland Research Excellence Awards recognise the outstanding contributions made by researchers from those beginning their career to those whose work has earned them national and global standing. On May the 7th the high quality of work and contribution of 19 researchers and teams across the faculties and institutes at the University of Auckland were acknowledged in the 2019 Research Excellence Awards.
Four Research Excellence medals are presented annually, up to two for individuals and up to two for teams, who have made an outstanding contribution to one or more disciplines. Along with the medal, an individual winner receives $5000 and winning teams $10,000. The award is judged and supported by the University Research Committee.
Among the teams were some familiar faces from Cochrane New Zealand and Cochrane Gynaecology and Fertility. Congratulations to Cindy Farquhar, who led the team which consisted of Marian Showell, Vanessa Jordan, Lynn Sadler, Jane Marjoribanks, Helen Nagels and Sarah Lensen. These individuals all received their Research Excellence awards for their work in improving research on treatments for people with infertility.